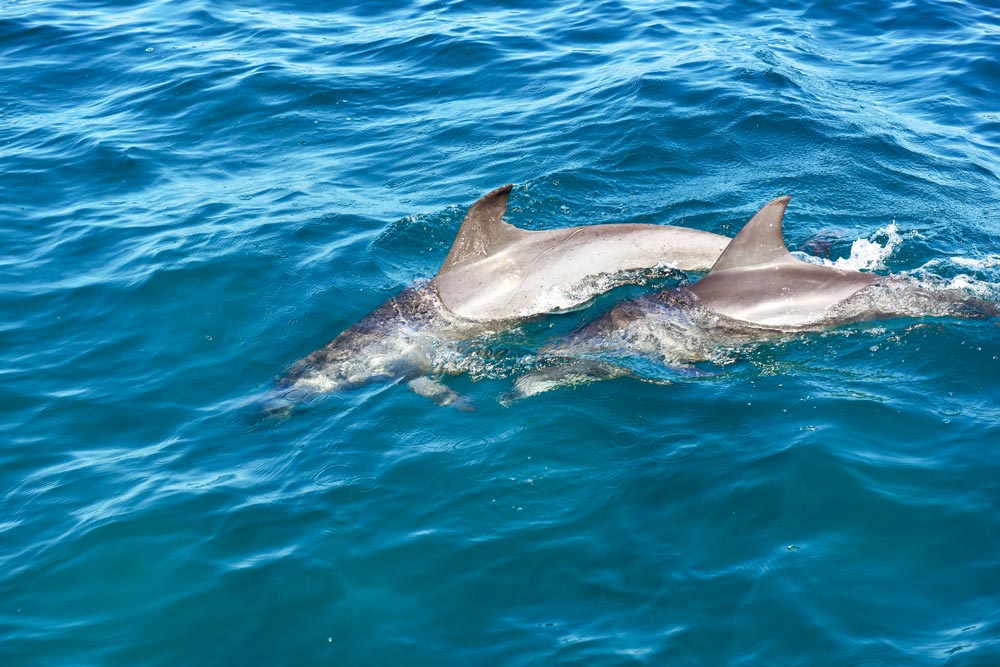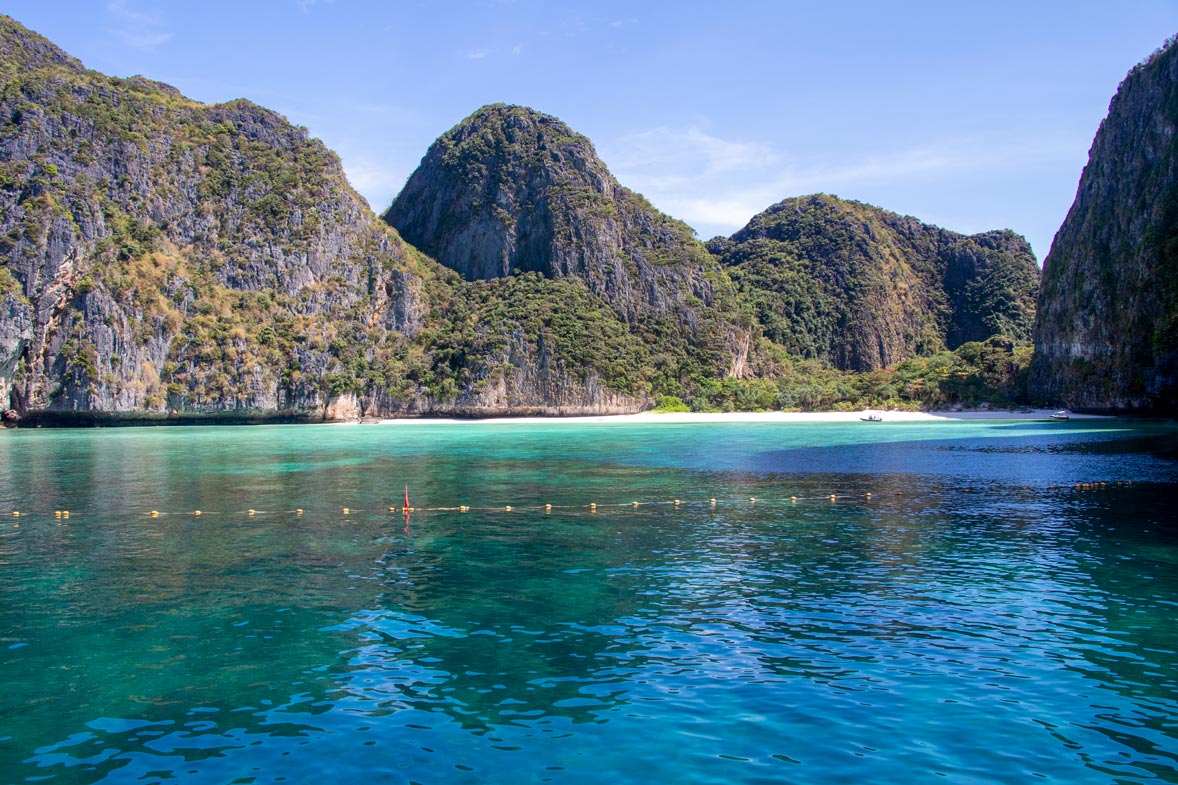 ONE DAY TRIP TO Koh Maiton and Koh Phi Phi
Important information
All customers boarding a boat from Chalong will be subject to the following requirements:
 Customers will need to provide either a proof of full vaccination (vaccines certificate) or a negative test (ATK or PCR). Phuket "#SANDBOX" customers might be subject to different regulations depending on the destination. Please refer to the Koh Phi Phi requirement tab below for more information.
 Maya Bay is now open to the public since

1st of January 2022

, you are now able to step on "The Beach" but you need to respect a new set of rules to be allowed to enter.
Cruising to Maiton and Phi Phi Islands on a power catamaran
Join us for a great Koh Phi Phi day trip to discover Thailand's beauty and make the most of your holidays. Our Koh Phi Phi cruise takes you over the Andaman Sea to explore Maiton and Phi Phi Islands for a great adventure.
You will be able to take part in several activities during your day, jump down our inflatable boat slider into cristal clear azure waters of Koh Maiton, dive from the top deck, try to spot wild dolphins, snorkel to discover the stunning underwater world of the andaman sea, relax or sunbath on the beach, contemplate the spectacular scenics landscapes of Koh Phi Phi, paddle in a kayak or on a paddle board through turquoise water of Phi Phi's Monkey Beach and watch the sky changing from day to night while cruising back to Phuket with your head full of memories.
English and Thai speaking (licenced) Tour guides will lead you during the day accompanied with our experienced Captain and Crew members ensuring you're entertained and safe while cruising or doing activities.
This boat offers a perfect choice for everyone combining speed, comfort, safety, reliability and spacious areas which provides a perfectly safe environment for all including families with kids or older people. Her cruising speed allows you to visit more places and spend more time there. She has a generous open space filled with sitting areas divided in four different areas so you feel uncrowded: the top deck offers amazing panoramic views, the foredeck has a nice and large shaded sitting area, the lower deck is equipped with tables if you feel hungry and lastly the cabin with indoor seating and all comodities (toilelts, showers, kitchen). She is also equipped with a Bluetooth sound system allowing you to play your favorite tunes during the day.
We also provide soft drinks, water, ice, seasonnal fresh fruits during the cruise. Transfers and National Park Fees  are not included in the ticket price.
Join us for a great experience and discover Thailand's beauty to make the most of your holidays. Let Sunshine Yachts take you over the Andaman Sea to explore breathtaking sceneries.
Big Boat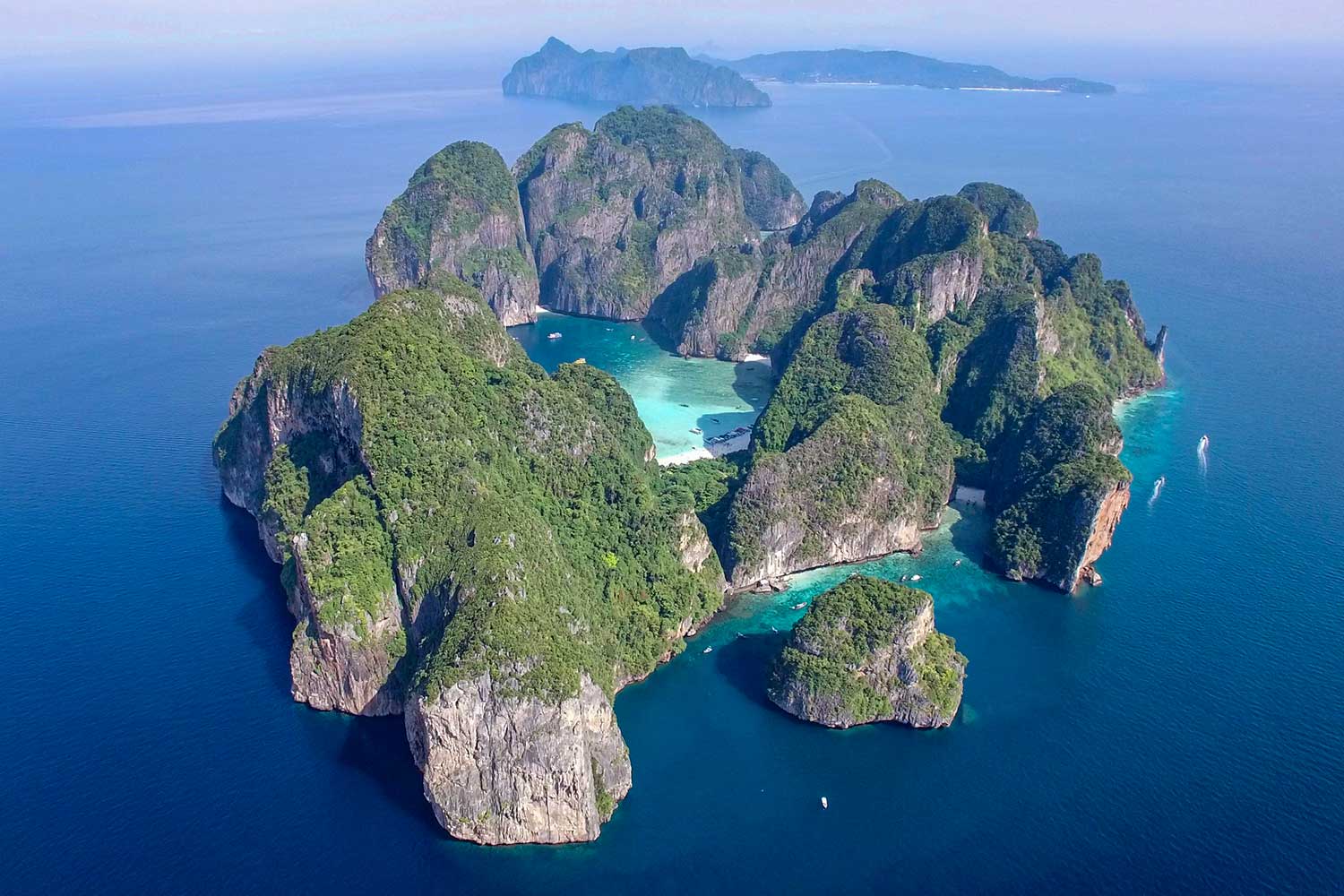 Koh Phi Phi
Maiton
Snorkeling
Boat Slider
Kayaks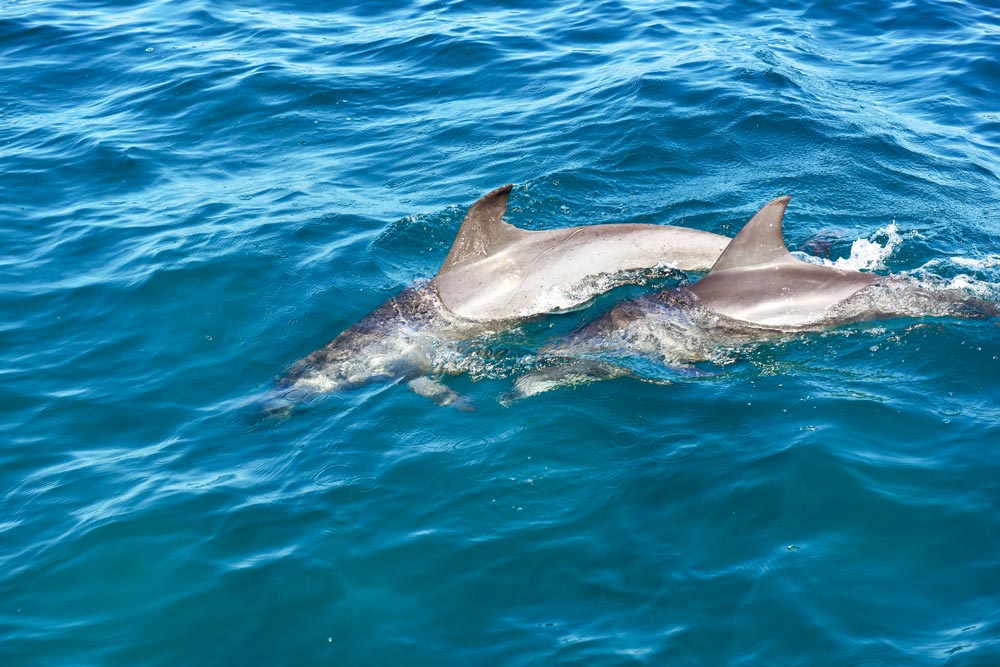 Dolphin Spotting
Paddle Boards
Itinerary
10.30AM

Meeting at Chalong Pier

11.00AM

Leaving to Koh Maiton

11.30AM

Arriving at Koh Maiton. Get ready to see dolphins if you are lucky. Have fun with the slider, kayaks or paddle boards, jump for a swim or snorkeling and take nice pictures. Time available there is about an hour.

12.30PM

Everyone gets back on the boat to have lunch while enjoying the scenery.

1.00PM

Once lunch is done, we start to leave for Koh Phi Phi.

2.15PM

Arriving at Koh Phi Phi. Visit Maya Bay and Loh Samah Bay.

2.45PM

Arrive at Pileh Lagoon and pass Viking Cave.

3.15PM

Leaving Pileh to visit Monkey Beach, and do some paddle board and kayak.

4.45PM

Visit Nuy Bay before getting back to Phuket.

6.00PM

Sunset in open Ocean on the way back to chalong pier.

6.30PM

Arriving at Chalong Pier, end of the day.
Includes
Lunch
(1)
Drinks
(2)
Fruit
Snorkeling Gear
Water Toys
(3)
Free Photos
(4)
Local Guide
Travel Insurance
(5)
(1) Allergies and vegeterian food options are available on request.
(2) Soft Drinks, Drinking Water and Ice.
(3) Water toys includes: Boat slider, kayaks, paddle boards and inflatable toys.
(4) Photos are taken by our staff during the cruise and a copy will be available for download for free.
(5) Travel Insurance covers up to 1,000,000 THB.
Does not Include
Island fees
(1)
Transfet
Towel
(1) The Koh Phi Phi National Park Fee is not included in the ticket price. Island Fee are 400 THB per adults and 200 THB per kids.
KOH PHI PHI REQUIREMENTS (COVID-19)
Please keep in mind that the following Koh Phi Phi regulations are subject to change at anytime by the Krabi authorities. We will update the following requirements as soon as we are aware of any changes.
 For Locals (both Thais and Expats): Koh Phi Phi requires local tourist to be fully vaccinated (vaccination certicate).
 For Phuket #SANBOX Tourists: Not allowed to go to Koh Phi Phi during the first 14 days period after they've arrived in Phuket. Starting from the 15th day, they are allowed to go to Koh Phi Phi. A passport copy and a vaccination certificate is required from National Park officers to enter Koh Phi Phi.
 For childrens from 12 to 18 years old: they will need to show a negative Covid-19 test within the last 72 hours.
 For children under 12 years old: they are allowed to enter the National Park as long as they are accompanied with a fully vaccinated parent.
Things to know
 Itinerary is subject to change depending on the weather and tides conditions.
 Dolphins seeing at Maithon is not guaranteed as they are wild animals.
 Inform the staff of any food preference at least 24 hour before departure.
 Inform the staff if someone does not know how to swim.
 Bring a hat, sunscreen, sunglasses.
 Bring a towel, swimming equipment and a set of dry clothes if needed.
 If you are subject to seasickness, please let our crew know prior to departure so we can offer you medication. (Dimenhydrinate Tablets)
 Kids must be accompanied by an adult to be accepted on board.
 Parents will be required to proove their kid's age prior departure with an official ID.
 There is a car park at Chalong Pier, it costs 40 THB per day to park your car there.
PAYMENT
At the moment, we only accept the following payment methods:

Cash

QR Code

Thai Bank Transfer
Please read do not forget to read our cancellation policy below
Cancellation policy
Program is subject to change depending on the weather and tides conditions of the day. In extreme weather conditions, we may have to cancel the trip, in this case we offer a full refund or you can move your reservation to the next day possible. Otherwise we follow our cancellation policy as below:
 100% refund if you can cancel trip 15 days before departure date
 50% refund if you cancel trip 7 days before departure date.
 No refund for any cancellation with less then 7 days notice.
 For no show and no notice, no refund is available.
In case of a COVID-19 related cancellation, we agree to not apply the above cancellation policy and to offer a full refund only if the customer can provide evidences (documents) that the cancellation is due to COVID-19.
PRICE
Kids Rates
Under 4 years:

FREE

Between 4 and 12 years:

1,900฿

Over 12 years:

2,500฿
** Kids ID are required to confirm age **
PRICE
Kids Rates
Under 4 years:

FREE

Between 4 and 12 years:

1,900฿

Over 12 years:

2,500฿
** Kids ID are required to confirm age **
need more information?
Get in touch by phone, social networks or email,
We are available 7 days a week!