Koh Phi Phi Private Speedboat
Koh Phi Phi Private Speedboat: A fast way to go around
Explore the wonders of Koh Phi Phi on a private speedboat charter around the islands. Chartering your own private boat allows you to make the most of your day as you are fully in charge and free to adapt the itinerary to your personal requirements. Let's visit Maya Bay and much more together!
If you are looking for a private boat to go around Koh Phi Phi, your alternatives are limited. You usually can choose between a private speedboat or a more traditional option with the Thai wooden boat: the longtail boat. A longtail will offer you a more authentic and chilled experience when a speedboat will offer more flexibility in your itinerary.
Why choose a private speedboat over a longtail boat?
The main difference is the speedboat's speed. As it is a fast boat, a day around Koh Phi Phi on a private speedboat will allow you to visit more places and/or stay longer at each location. You can just adapt your program at any time depending on what you prefer to do. A longtail will be much slower and therefore flexibility itinerary alternatives might not be as easy. Is a private speedboat a better option? That depends on which criteria you will determine your decision, I would say that the speedboat is probably a preferable overall choice for families with kids or older people, it is also a more comfortable alternative but with definitely less authenticity than a longtail.
Itineraries ideas for a day on private speedboat around Phi phi
You will be able to choose between a half-day (4 hours) or a full-day program (7 hours) to organize your itinerary island hopping around Koh Phi Phi. As this is your private speedboat charter, there are no fixed itineraries you will have the freedom to determine where you really want to go and how long you want to stay at each location. If you prefer a premade itinerary, we also have options available that you can choose from and add some of your personal touch to it. We will guide you to make it work the way you want it so you can have the most wonderful day exploring Phi Phi islands.
Savor your day around the most spectacular scenic landscapes of Koh Phi Phi, explore Pileh lagoon breathtaking limestones cliff scenery, discover the beauty of the iconic Maya Bay, snorkel through crystal clear waters to discover the stunning underwater world of the Andaman Sea and finish your day with a memorable sunset.
Koh Phi Phi National Park
The Koh Phi Phi National Park area is all the 6 islands. So even if fees are (or were in the past) collected mainly around Maya Bay, Monkey Beach and Bamboo island, they can also now be collected anywhere within the National Park area (Pileh Lagoon, Loh Samah). The National Park rangers can hop on your boat anywhere at any time to request you the pay the mandatory fee of 400 THB (200 THB for kids under 12 years old) if it's not included in your tour price.
What about maya bay? is it open?
Yes! Good news! After being closed for more than 3 years (since June 2018) mostly to allow its ecosystem to recover, Maya Bay is now finally reopened. Tourists are now allowed to step on the "Beach" but there are some changes and new regulations to this reopening, though:
Boats are not allowed to enter the bay as it used to be, entrance is now located in Loh Samah Bay
The number of visitors is now limited to 375 persons per round. A round last an hour.
A pass is now required to enter the bay. Each pass (QR code) to access the bay must be booked in advance (online through the QueQ app Google Play Store or Apple App Store).
Swimming is not allowed in the bay
You now will be able to spot blacktip sharks swimming close to the shore in Maya Bay!
What to expect on a koh phi phi tour by private speedboat?
This private speedboat charter comes with snorkeling gear (mask and snorkel) and life jackets. You'll be able to take part in some snorkeling, swimming during your day. Our experienced captain and crew will be ensuring your safety while cruising or doing activities throughout your journey.
The speedboat main area has a roof for weather protection (sun or rain) and seats all around. The bow also has a sitting area where you can enjoy the sun but be ready for an energetic journey if you choose to sit there as it can be bumpy. The boat also has a Bluetooth sound system allowing you to play your favorite tunes during the day.
Ready to book your private speedboat trip?
This is a fully crewed charter so you, as the guest, don't need to worry about anything, just relax and enjoy. There is an Ice box so if you want to you can bring your own drinks on board as well. We also provide soft drinks, water, ice, seasonnal fresh fruits during the cruise. National Park Fees are not included in the charter price.
Join us for a great experience and discover Thailand's beauty to make the most of your holidays. Let Sunshine Yachts take you over the Andaman Sea to explore breathtaking sceneries.
Locations Ideas for a private speedboat around Phi Phi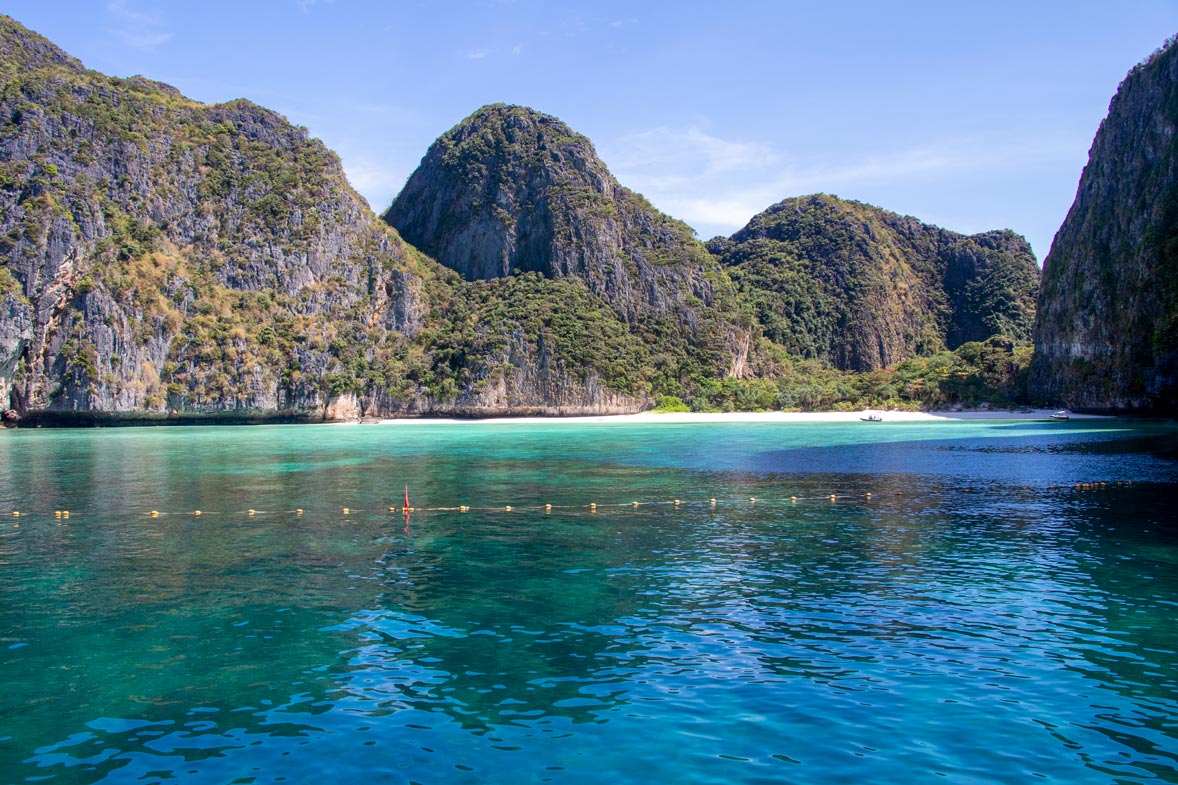 Maya Bay
Viking Cave
Pileh Lagoon
Bamboo Island
Nui Bay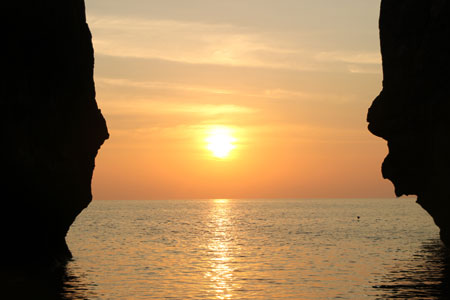 Wang Long
Monkey Beach
Loh Samah Bay
Base Price Includes
Safety Equipments
(1)
Drinks
(2)
Fruit
Lunch
(3)
Snorkeling Gear
Travel Insurance
(4)
(1) Life jackets.
(2) Soft Drinks, Drinking Water and Ice.
(3) Lunch is only included for full-day trips (7 hours)
(4) Travel Insurance covers up to 500,000 THB.
Base Price Does not Include
National Park fees
(1)
(1) National Park Fees are not included in the price. Koh Phi Phi National Park fees are 400 THB per adults and 200 THB per kids (under 12 years old) and need to be paid to the National Park Rangers.
Things to know
  Itinerary can be subject to changes depending on the weather and tides conditions.
 A speedboat trip is not suitable for pregnant women and infants.
 Inform the staff of any food preference at least 24 hour before departure.
 Inform the staff if someone does not know how to swim.
 Bring a hat, sunscreen, sunglasses.
 Bring a towel, swimming equipment and a set of dry clothes if needed.
 If you are subject to seasickness, please let our crew know prior to departure so we can offer you medication. (Dimenhydrinate Tablets)
 Kids must be accompanied by an adult to be accepted on board.
PAYMENT
At the moment, we only accept the following payment methods:

Cash

QR Code

Thai Bank Transfer
Please read do not forget to read our cancellation policy below
Cancellation policy
Program is subject to change depending on the weather and tides conditions of the day. In extreme weather conditions, we may have to cancel the trip, in this case we offer a full refund or you can move your reservation to the next day possible. Otherwise we follow our cancellation policy as below:
 100% refund if you can cancel trip 15 days before departure date
 50% refund if you cancel trip 7 days before departure date.
 No refund for any cancellation with less then 7 days notice.
 For no show and no notice, no refund is available.
PRICE
* Starting price is calculated with the cheapest options available, extra charges may apply depending on your destination and personal choices.
PRICE
* Starting price is calculated with the cheapest options available, extra charges may apply depending on your destination and personal choices.
need more information?
Get in touch by phone, social networks or email,
We are available 7 days a week!