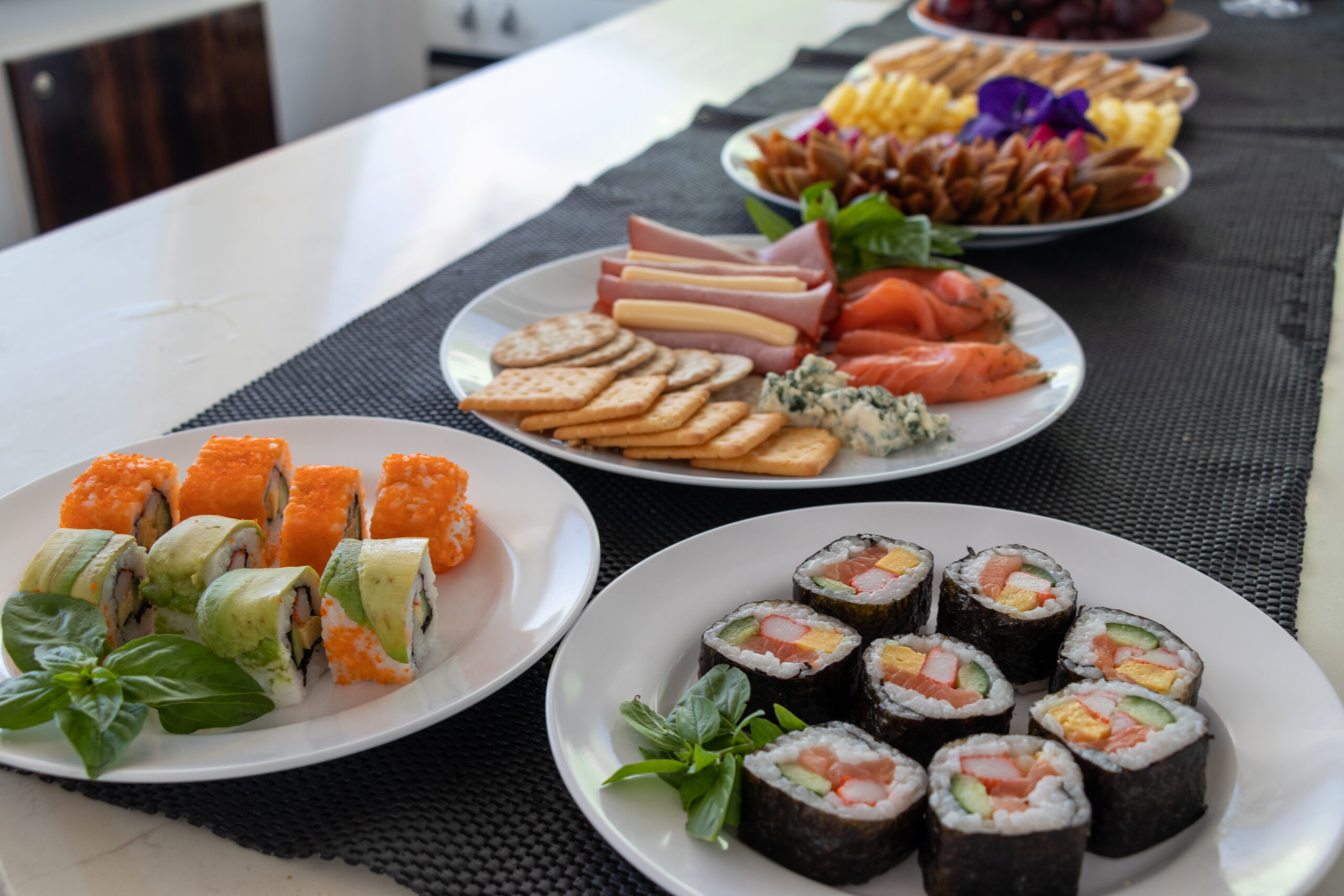 Sunseeker Manhattan S50 available for private charter
The Sunseeker Manhattan S50 motor yacht offers you the ultimate luxurious experience to cruise around the Andaman Sea's islands for your holidays.
This beautiful power yacht is perfectly adapted to take about 15 people on day trips, she will take you around Phuket's famous islands or to even more distant locations like Koh Phi Phi or Phang Nga Bay (James Bond Island) for a day charter.
This Sunseeker S50 is a very interesting boat not only because of it's layout but also for its attractive shapes, design or extraordinary performances powered by twin 800HP MAN diesel engines.
Her remarkable use of space gives you a feeling of freedom as you step inside. She has a fully air conditioned interior with temperature control available for each cabin, the main sitting area is equipped with sofas that make it a nice social area that can also be used as the dining area with a convertible table. There is as well a second helm in the main indoor area.
Going down to the lower deck is a really decent size galley and many storages areas. An electric hotplate, a big fridge and freezer are also part of the equipment.
There are 3 private cabins and toilets on this lower deck, 2 cabins with double beds and one with bunk beds which makes this boat suitable for 6 people overnight. The full beam master cabin is a nice and spacious cabin with lots of windows and storage and has its own private bathroom. The guest cabin is also a nice sized cabin, with a big hatch overhead and storages all around the cabin with direct access to a bathroom. The last cabin is smaller with a small storage and a bunk bed.
Her foredeck has cushions suited for sunbathing and relaxation. Coming up to the Flybridge you will be able to enjoy breathtaking panoramic views of the most scenic landscapes. It has a sitting area for about 8 people with a nice teak floor and a second helm position.
A paddle board, snorkeling and fishing gear, life jackets and a dinghy are also included. We will also provide soft drinks, water, ice and seasonal fruit during the day.
You'll be able to take part in several activities during your day depending on the locations you will choose for your cruise. Our experienced Captain and crew will be ensuring your safety while cruising or doing activities throughout your journey.
Whether you want to charter her for a day trip (about 8 hours), for an overnight trip or even a weeks holiday, we can offer you the best package depending on your requirements. She offers the perfect choice for a group of friends or a small family looking to spend some time with style in a luxurious way.
This boat is available as a fully crewed charter so you, as the guest, don't need to worry about anything, just relax and enjoy. We can also offer different kinds of packages and services depending on your needs. A hostess, a cook and a catering service are available on request for overnight or long term trips .
Join us for a great experience and discover Thailand's beauty to make the most of your holidays. Let Sunshine Yachts take you over the Andaman Sea to explore breathtaking sceneries.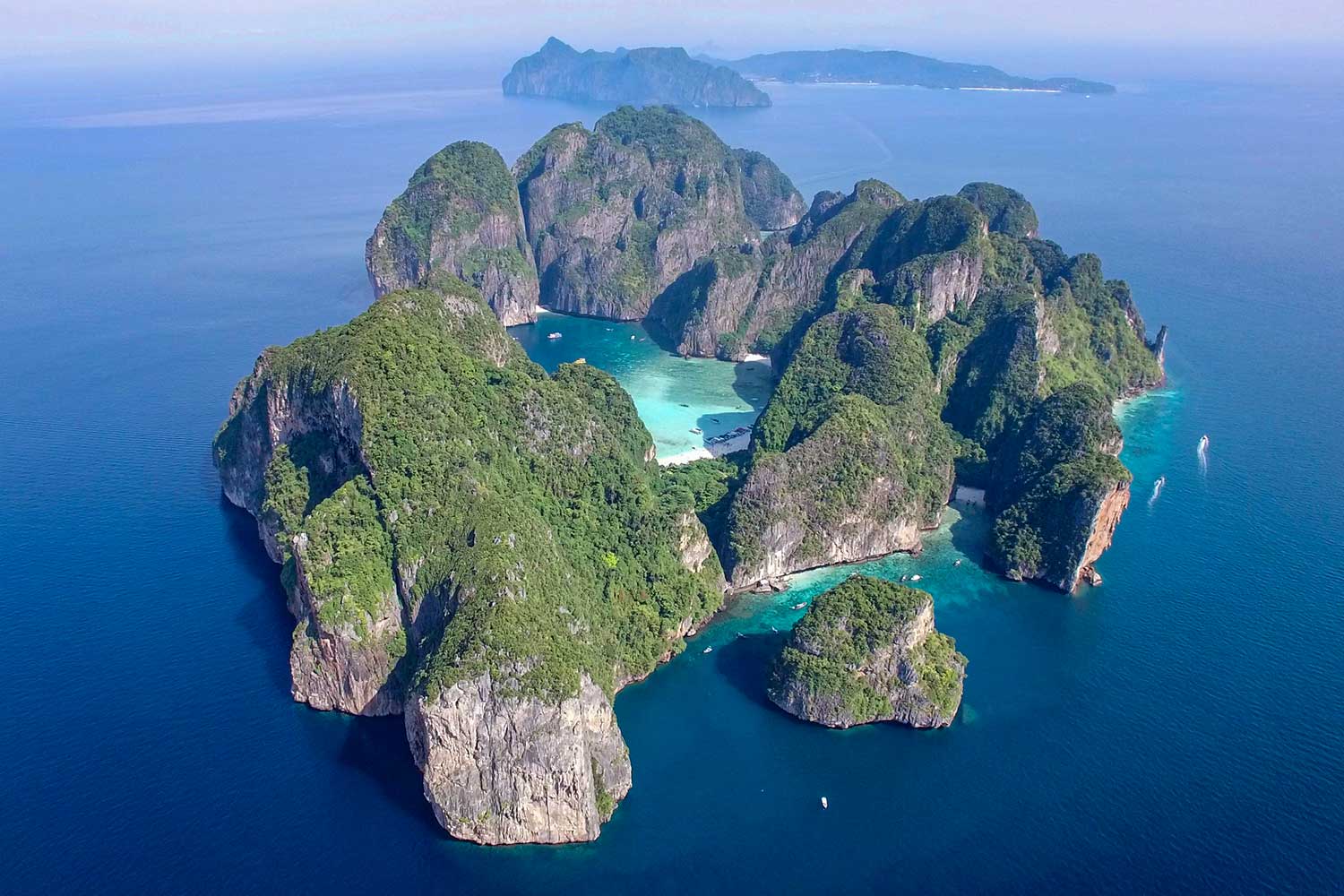 Koh Phi Phi
Racha Island
Maiton
Hong Islands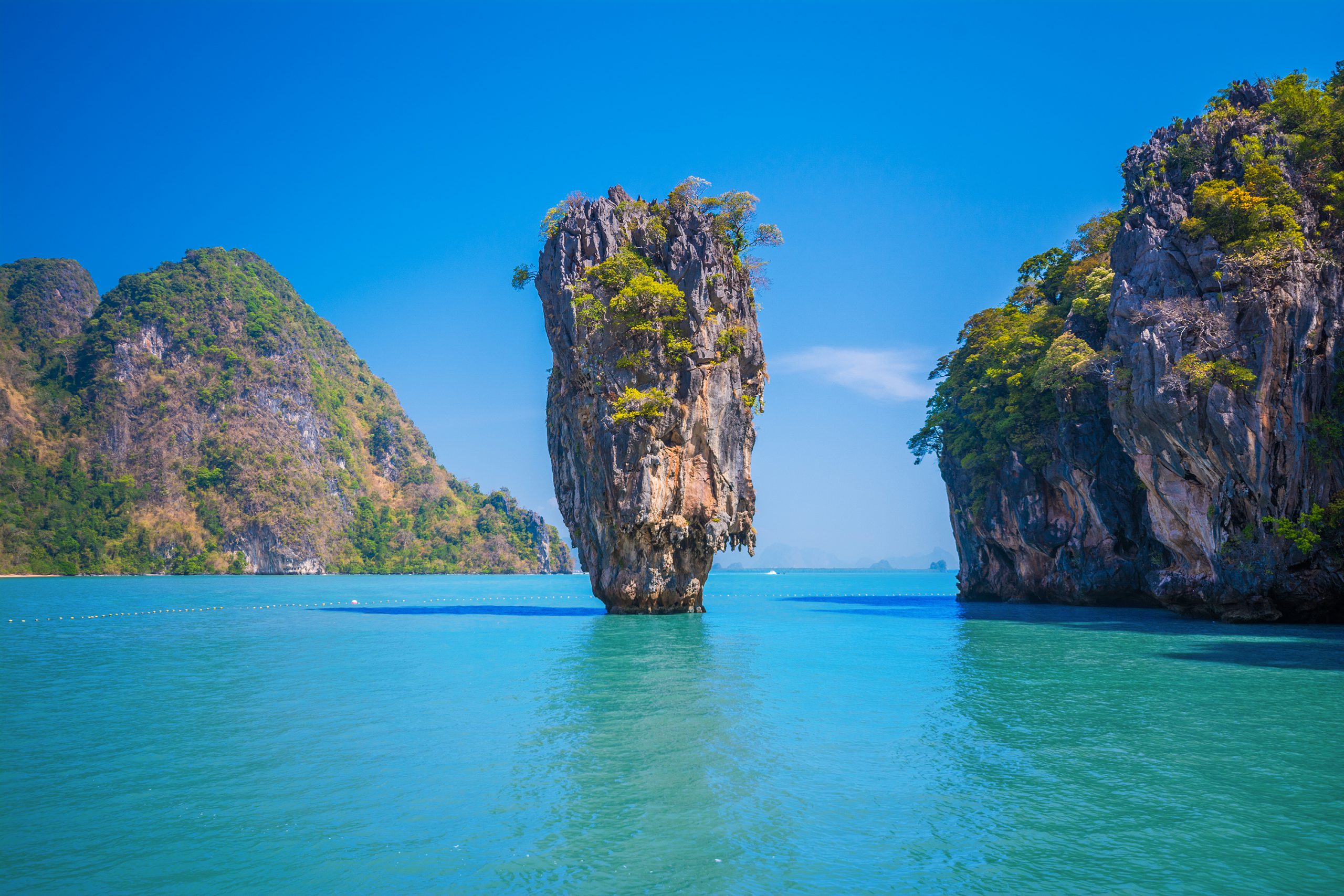 phang Nga Bay
Khai Island
Similan island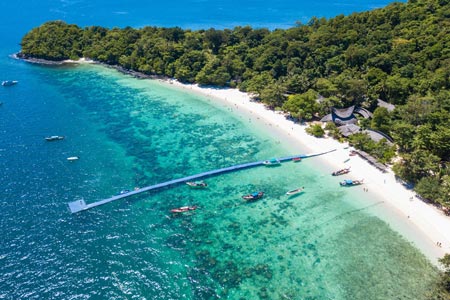 Coral Island
Base Price Includes
Safety Equipments
(1)
Drinks
(2)
Fruit
Snorkeling Gear
Water Toys
(3)
Crew
(4)
Fishing Gear
Travel Insurance
(5)
(1) Life jackets.
(2) Soft Drinks, Drinking Water and Ice.
(3) Water toys includes: Boat slider, kayaks, paddle boards and inflatable toys.
(4) Exprerienced Captain and Crew are included
(5) Travel Insurance covers up to 500,000 THB.
Base Price Does not Include
Lunch
(1)
Island fees
(2)
Transfet
(1) Allergies and vegeterian food options are available on request.
(2) National Park Fees are not included in the charter price. Usually Thailand's Marine National parks fees are around 400 THB per adults and 200 THB per kids and need to be paid to the National Park Rangers.
Paid extras (available on request)
We can provide extra services on request for a fee:
 Hotel Transfert
 Licenced Tour Guide
 Thai Buffet Lunch
 Western Buffet Lunch
 Seafood Buffet Lunch
 On board BBQ Grill
 Alcoholic Beverages
 Professional Photographer
KOH PHI PHI REQUIREMENTS (COVID-19)
Please keep in mind that the following Koh Phi Phi regulations are subject to change at anytime by the Krabi authorities. We will update the following requirements as soon as we are aware of any changes.
 For Locals (both Thais and Expats): Koh Phi Phi requires local tourist to be fully vaccinated (vaccination certicate).
 For Phuket #SANBOX Tourists: Not allowed to go to Koh Phi Phi during the first 14 days period after they've arrived in Phuket. Starting from the 15th day, they are allowed to go to Koh Phi Phi. A passport copy and a vaccination certificate is required from National Park officers to enter Koh Phi Phi.
 For childrens from 12 to 18 years old: they will need to show a negative Covid-19 test within the last 72 hours.
 For children under 12 years old: they are allowed to enter the National Park as long as they are accompanied with a fully vaccinated parent.
Things to know
 Dolphins seeing at Maithon is not guaranteed as they are wild animals.
 Inform the staff of any food preference at least 24 hour before departure.
 Inform the staff if someone does not know how to swim.
 Bring a hat, sunscreen, sunglasses.
 Bring a towel, swimming equipment and a set of dry clothes if needed.
 If you are subject to seasickness, please let our crew know prior to departure so we can offer you medication. (name and composition of pill)
 Kids must be accompanied by an adult to be accepted on board.
 Parents will be required to proove their kid's age prior departure with an official ID.
 There is a car park in Chalong Pier, it costs 40 THB per day to park your car there.
PAYMENT
At the moment, we only accept the following payment methods:

Cash

QR Code

Thai Bank Transfer
Please read do not forget to read our cancellation policy below
Cancellation policy
Program is subject to change depending on the weather and tides conditions of the day. In extreme weather conditions, we may have to cancel the trip, in this case we offer a full refund or you can move your reservation to the next day possible. Otherwise we follow our cancellation policy as below:
 100% refund if you can cancel trip 15 days before departure date
 50% refund if you cancel trip 7 days before departure date.
 No refund for any cancellation with less then 7 days notice.
 For no show and no notice, no refund is available.
PRICE
* Starting price is calculated with the cheapest options available, extra charges may apply depending on your destination and personal choices.
PRICE
* Starting price is calculated with the cheapest options available, extra charges may apply depending on your destination and personal choices.
Specifications
Boat type:

Power Yacht

Crewed Charter:

Yes
Max Guest Capacity: 12 people
 

Length:

16 m (52.5 ft)
Cruising speed: 17 knots
Max speed: 27 knots
AC/FAN: AC

Cabin:

3

Overnight:

Available

Toilets:

2
 Showers: 2, indoor and outdoor
Kitchen: 1

Soundsystem:

  Indoor and outdoor
 

Bluetooth:

Available
need more information?
Get in touch by phone, social networks or email,
We are available 7 days a week!